10 man made structures that were taken to the extremes
Human beings are creative. But sometimes they take this creativity to the extremes and come up with extraordinary structure just like the ones below.
10. The Niesenbahn Funicular Service Stairway
This is the longest stairway in the world. It runs alongside the Niesenbahn Funicular railway near Spiez, Switzerland. It has 11,674 steps in total.
9. The Cleveland Federal Reserve's Vault Door
The Cleveland Federal Reserve's vault door was installed in 1923 and was retired in 1996. It was 1.5 meters thick and was the largest vault door installation in the world.
8. Wartsila-Sulzer RTA96-C
This is the world's longest ship. It has been holding this record since 2007. Its size is comparable to the world's tallest skyscrapers at 397 meters
7. The Delaware Aqueduct
You may not be aware of the unseen engineering marvels put in place so you can have instant access to clean water at the comfort of your home. The Delaware Aqueduct is an engineering masterpiece.
6. KVLY-TV Television Mast 
It took 11 men 33 days to assemble this antenna to a dizzying height of 628.8 meters. It held the record for the world's tallest man-made structure until 2010 when Burj Khalifa was built in Dubai.
5. The Australian BHP Iron Ore Train
This train is 7.3 km long and has a total of 682 cars. The combined weight is 100,000 tons. It is therefore the longest and the heaviest train to ever move.
4. The Luxor Sky Beam
The Luxor Sky Beam is mounted on top of the Luxor Hotel in Las Vegas. It is the second brightest man-made light in the world.
3. Large European Acoustic Facility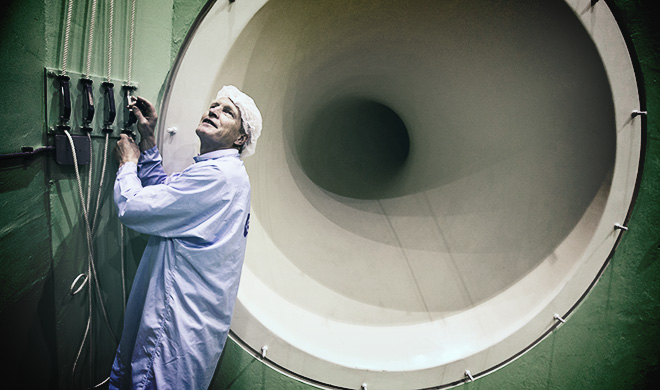 This acoustic facility is so loud, it can kill you! It is the world's most powerful artificial sound system. It is used to test whether satellites and other electronics can withstand the decibels produced at rockets' take-off.
2. The Aerium
This is the biggest free-standing hall in the world. It is 107 meters high and 210 meters wide.
1. SEA-ME-WE-3
Submarine telecommunication cables are rarely mentioned when it comes to connecting the world. Most people are not even aware of the existence. SEA-ME-WE-3 is the world's longest at 39,000 km. It runs from England to Australia.